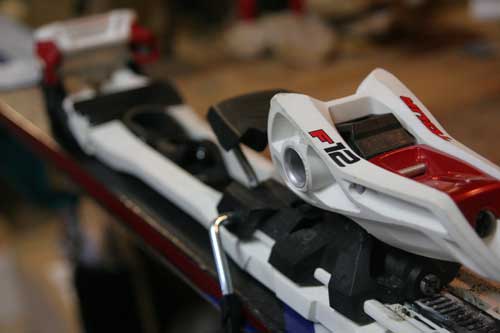 The Marker Duke alpine touring binding made waves in the market a couple years ago offering stout alpine-like lock down in a touring binding. A lot of resort and sidecountry skiers adopted the Duke, for good reason; they are solid binders. Dedicated touring aficionados, however, shook their heads saying, why tour with a five-pound binding? Well, Marker has addressed the head shakers with their new Tour bindings the F10 and F12 (number refers to max DIN setting). The new Marker Tour bindings weigh in at 4.4lbs (over a pound less than the Duke), making them virtually the same weight as the venerable Fritschi alpine touring bindings. In fact, the F10 actually weighs in slightly less than the Fritschi.
My primary touring binding is a Dynafit, so the thought of a four-pound binding still sounds heavy for touring, but the Marker Tour F12 does offer certified DIN to 12, alpine ski boot compatibility, alpine-like step-in convenience and bomber downhill performance. I know there is a large group of skiers who are less concerned with the weight of their gear than I am, and the new Marker binding will most certainly develop a solid following.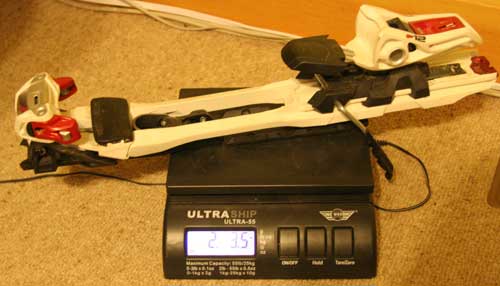 The primary criticism of the binding revolves around the fact that you must remove your boot from the binding in order to change between ski and tour modes. Most of us pull our skis off when it is time to put on skins, but having to remove the skis when pulling skins and switching to ski mode is a solid gripe. But for many skiers the downhill performance of the Tour will compensate for the inconvenience.
The Marker's wider mounting footprint and the binding's bomber construction create an excellent, responsive connection to the ski. These bindings are the biggest competition the Fritschi has seen. They may not turn the heads of the go-lite crowd, but the new Marker Tour bindings are a solid choice for mixed resort and backcountry use.
Shop for Marker Alpine Touring Bindings at evo.com
shop for deals on Marker ski bindings at backcountry.com and support Off-Piste Mag
Ski binding weight chart (tele and AT)