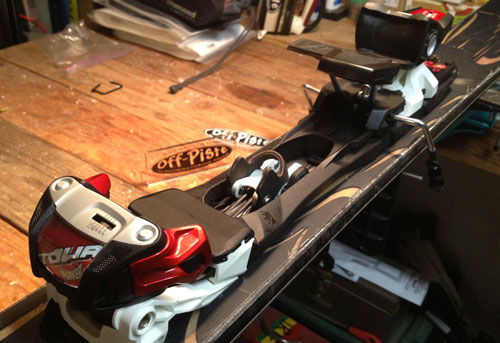 Marker, well respected in the alpine binding scene, first launched into the backcountry ski market with their popular Duke AT binding. The Duke filled the need for a stout, alpine-style AT binding nicely but, at six pounds a pair, few touring purists have sought it out as a dedicated touring tool. Understanding that not everyone is a Duke customer, Marker developed a lighter weight  binding revolving around the same design structure as the Duke and the Marker Tour F12 and F10 alpine touring bindings were born – the 10 and 12 refer to max din settings.
Using a hollow core frame, lightweight hollow spindles in the heel and toe units along with other features, Marker effectively dropped two pounds off the Duke. In fact, the Tour F12 weighs in at just under four pounds (3 lb 15 oz -size small), giving it the distinction of being the lightest of the step-in, alpine style touring bindings.
The 2012 Tour F12 reflects several design improvements from the original Tour series models. Most importantly, Marker has improved the toe pivot system for increased durability. The new toe pivot axle is stouter and includes Teflon bushings. The earlier version was adequate for occasional touring use, but skiers logging many heavy hours in tour mode saw some wear in the original design. The new system appears to have addressed the issue.The 2012 model also adds a couple of anti-icing features to keep the toe pivot snow-free.
I have a limited amount of time on the new binding, but have had excellent results. It has been glitch-free. As a long-time tech binding user, stepping up to the bulk of the Tour F12 is a change for sure but, from a functionality perspective, it works great.
I see the Marker Tour series bindings as a solid choice for skiers looking for a touring set-up offering the familiarity of a step-in binding or anyone looking for a binding that is equally at home at the ski hill as it is the skin track.
The F12's design requires that you remove it for each uphill/downhill transition. The transition lever sits under the boot sole and actually shifts the binding back four centimeters to release it from its heel plate. The heal plate attachment creates a solid foundation when in ski mode, and the four centimeter-shift in tour mode helps to offer a good balance point for kick turns and such when in tour mode.
The real beauty of the binding though is its step in ease and alpine like familiarity with the best weight of the various step-in style binders on the market.