The go-light AT scene appears to be on the rise. Black Diamond showed four new lightweight AT boots (all tech binder compatible) . The new line includes one women's model and three men's boots – Quadrant 4-buckle, Prime 3-buckle, Slant 3-buckle, and Swift 3-buckle (w's). I actually had the opportunity to ski several of these boots last summer during development. They ski well, matching solid downhill perfomance with lightweight Pebax construction and a generous toe box fit. The boots are competitively light with boots like Zzero, Spirit 3 and 4, and the Radium, all of which weigh in the neighborhood of 3.2 – 3.6kg pair.You can get the full propoganda from BD's microsite. The Prime is my pick as the nicest of the new collection, but we will be sure to get time on all of the production models this winter and spring.
I was surprised to see Scarpa offering a new lightweight four buckle boot called the Maestrale (Gea women's model). It takes over for the Spirit 3 and 4. It is lighter (3kg/pair) and Scarpa now claims the lightest four buckle AT boot on the market. The boot has a couple unique features/construction characteristics. First, the tongue system is unique and folds out of the way for easy entry. Second, Scarpa has redesigned its forward lean mechanism (throughout the tele and AT lines)  reducing flex in the system. Finally, Scarpa is using a new plant based Pebax that not only reduces the boot's carbon footprint, but the new material also holds its characteristics through a wider temperature range than traditional Pebax. I was surprised to see the Spirit 3 and 4 out of the line as I have been using both boots for several seasons and see them as leaders in their categories. The new boots still use Intuition liners (some of the nicest most durable liners in the business) and weighing in at 3kg a pair, they are now the lightest four buckle boot around.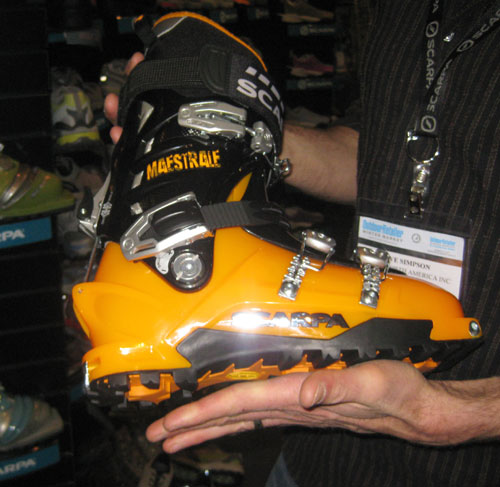 Scarpa also added a walk/tour mode to the long popular T-Race tele boot. The original red T-Race boot had a tour mode, but when it went through the redesign a few years back, the white model lost the tour mode switch. It is good to see it back.
Garmont and Dynafit each showed two boots that set a new standard for lightweight At boots. More on those in the next entry.