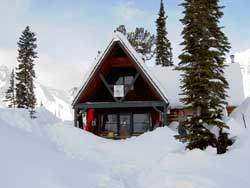 Last call on the winter lotteries to book a week at the Alpine Club of Canada Kokanee Glacier and Fairy Meadows Huts. The lottery closes at midnight on May 15.  Get all the details on the Alpine Club of Canada hut lottery
Lottery Rules/Logistical Details:
Stay length is 7 nights – Saturday to Saturday.
Lottery applications can be for any weeks starting December 29th, 2013 with the final week available for application April 26th, 2014.
Applicants can enter the lottery for groups of a minimum of 4 people
Application fee is $15.00 for every week requested. Multiple entries can be made on the same application for the same or different weeks. Note: Some weeks in the lottery may have limited capacity (not the full 20) available.
The only way to apply for the lottery is to use the online system
A winner for each week will be selected along with a first and second runner-up.
Rates for ski weeks are $925.00 CDN Per person and includes 7 nights accommodation and return flights.
All gear, food and any other items being flown on the helicopter may be weighed at staging area. The weight limit for items (other than people) is 100lbs per person.
We encourage all groups that are successful in the lottery to limit bulk when packing. Please pack gear and food accordingly considering that gear, food and 20 people need to fit on 5 helicopter flights. Any need for additional flights will be at the cost of the group.
The winning applicant in the lottery will be considered the week's group leader and will be the liaison between the group and the Alpine Club of Canada. The winning applicant will also be responsible for making all deposits and final payments.
If your group is employing a guide and/or cook, they need to be included in your group size at the time of your application.
Traveling in the Fairy Meadow backcountry area is for advanced intermediate to expert skiers with relevant backcountry travel experience.
All trips are self-guided and self-catered.