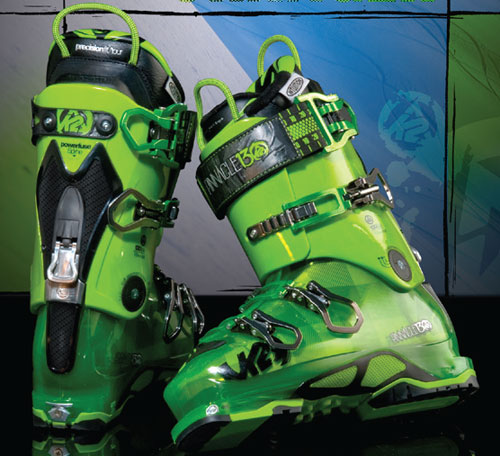 K2 just sent out a sneak peek of their new ski boot line and it includes two touring models – the Pinnacle 110 and Pinnacle 130 (number references boot flex). The boots look pretty downhill centric, but we are stoked to check them out. Sounds like first real glimpse will be in January or February 2013 with a retail launch slated for fall 2013.
Here are the details from K2 . . .
Using the All-Mountain boot design as a platform, K2 backs up its dedication to meet the needs of the freeride market by offering freeride-specific boots. Until the new K2 Freeride ski boots, industry technology has tried to create boots to meet the immediate demands of the exponentially growing side and backcountry community. However, boot designers have either over-compensated for weight reduction and the walk feature's range of motion, compromising the boots' downhill performance. Or, they have focused heavily on downhill performance, resulting in a poor walk feature and increased weight.
K2's new Freeride boots maximize uphill capabilities without compromising downhill performance, thanks to the revolutionary, patent-pending Synchro Interlock design. The easy-to-use and efficient system allows the user to synchronize the release of the inner wedge and Interlock for free-flexing walk performance that delivers impressive fore and aft range of motion. A synchronized lock of the system, engages the Interlock for ski mode, delivering true downhill all-mountain boot performance, maintaining 100% of the flex index.
K2's Freeride boot collection includes the Pinnacle 130 and 110. Starting from the inside out, the PrecisionFit and LuxFit INTUITION® liners are enhanced with Tour Flex Notches for optimal liner mobility, range of motion, and fit while touring. Meanwhile, the Integrated Tech Fittings embedded into the shell provide dramatic durability and accommodation for all modern DIN- alpine and Tech binding systems, without having to change the outsoles.
For those earning their turns, there is no need to haul more than is necessary. These Freeride boots watch their weight with a simple three-buckle design and a lightweight, extra wide buckle/strap, dubbed the K2 PowerBuckle, for quick and secure adjustments in and out of walk mode.
K2's new boots will be available Fall 2013
shop for alpine touring boots at evo.com