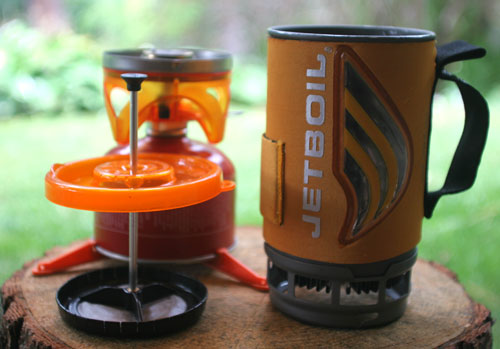 A self-professed coffee snob and addict, I am always looking for a way to get a fix in the backcountry or on the road. I recently started using the Jetboil Java Kit on road trips and in the field. The Jetboil Java Kit mates a one-piece cooking vessel/French press and proprietary heat baffle with a small, easily packable canister stove. The entire apparatus weighs less than a pound and packs into the cooking vessel making for a compact, portable unit.
Functionally, it boils about 16 ounces of water in under three minutes. Depending on how long you steep your coffee, you are drinking fresh coffee in mere minutes from starting the process. The system is slick. It is also functional for more than making coffee, provided you can do it with approximately 16 ounces or less of water. Jetboil recommends only filling the cook pot to the 16oz mark, but with a watchful eye, I have been able to boil closer to a liter (the cook pot's full capacity). A cool aspect to the system is that the stove and cook-pot actually connect together, making the set-up more stable than traditional systems. Adding even more stability is the three-legged base that clips to the fuel cannister. The base is a great little tool that folds up and fits into the cookpot with all of the other components.
The Java Kit is not necessarily a replacement for a full cook stove system (Jetboil makes more full service kits, too). I see it as a cool road trip tool and go-lite sytem for the minimalist. Heck, it is small and light enough, that I would consider taking it on a day trip to melt snow for drinking or to brew up hot drinks on the go.