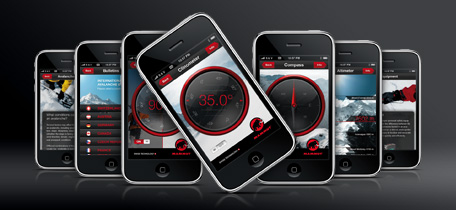 I don't own an i-phone. I am not a big advocate of safety through gadets, and I'm not so sure I would tote my i-phone in the backcountry if I happened to have one. I know, they are great cameras, you can make short movies, some day they may even save the world from self destruction, blah blah, blah. For all the skiers who are i-phone compatible and less fearful of gadgets in the backcountry than I happen to be, I just got wind of a new i-phone application (not to mention the concept of applications in general) that works as an inclinometer.
Mammut has a free i-phone application that turns the oracle (that's what i like to call the i-phone) into an inclinometer and offers a variety of avalanche safety related beta and resources..
Now, before you get all excited and tell me I am promoting something that I hardly believe in (safety through gadgets), I am not necessarily promoting gadget use in the backcountry. Being able to estimate a slope's angle is a valuable skill to have. Just because you have an inclinomter on your phone does not mean you have to take it out on ski tours. Seems to me, it could make for a great party game – guess the slope angle. Or take it resort skiing and check slope angles between fielding phone calls on the chairlift. Bottom line, it's free and I have been known to use my now old-school (read non-electronic) inclinometer while driving, hiking, or generally goofing around – because, like I said, estimating a slope angle is a skill. Now you can practice it with your i-phone.