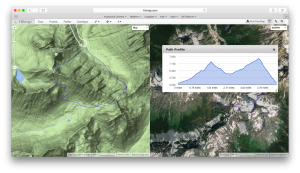 In the age of ubiquitous digital data, I'll be the first to admit I've been slow to use digital maps and images when planning my mountain adventures. But a recent discovery, Hillmap.com, is changing how I research and plan adventures.
Hillmap.com is a free, web-based mapping application that lets you review and compare terrain in multiple high resolution formats, add layers, create routes, pinpoint locations, measure slope, import gps data and even print maps. It's a fully functional tour planning tool (read more about tour plans in Off-Piste Mag Issue 37, Dec. 2009 – available in our online archive) that runs in your web browser. Hillmap was created by backcountry skiers and climbers.
According to Hillmap.com co-creator Ryan Bressler, the idea for the project started when he was out of commission one summer with a broken ankle and wanted a trip planning tool. Though not a GIS programmer by trade, he is a software developer and delved into the world of digital maps, creating Hillmap.com. As the project grew, his wife Jen got involved too.
The fruit of their labors is a user-friendly application that's designed to help the user design, create and share custom maps, in digital and print formats. You can build custom maps, plan ski tours or hikes and export the routes to your GPS, smart phone, or print device. You can also export tracks from your gps for viewing through Hillmap.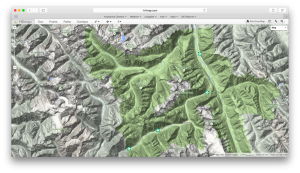 The Hillmap webpage opens with a split screen of two maps, and a header that opens up a variety of tools that you can use to customize a map, analyze terrain and create routes or measure distances. The default base maps offer satellite imagery and Google terrain maps side by side. You can change the map selection to include a variety of topographic and relief maps. As you move, scroll or zoom on one map, the other map mirrors your movements, offering the ability to see satellite, topo or relief maps side by side.
Once you have honed in on a location and zoom level, use "Path" tools to draw routes, create a tour profile, analyze slope angle, or create waypoints. Everything you do on one map appears on the second map, too, allowing for a useful terrain comparison. And you can then export your plan to your GPS unit.
Hillmap.com offers the most options and best resolution maps when viewing terrain in the United States. It works for Canada too, but some of the data available is more limited.
Bressler credits much of the evolution of Hillmap.com to user feedback and anticipates the application will continue to evolve organically as technology changes. He also recommends starting at the "Tour" tab for tutorials and reading through the "How To" section of the site to learn the ropes. It's also worth perusing Bressler's blog (linked on the site) for more tips on using his web-based mapping program.