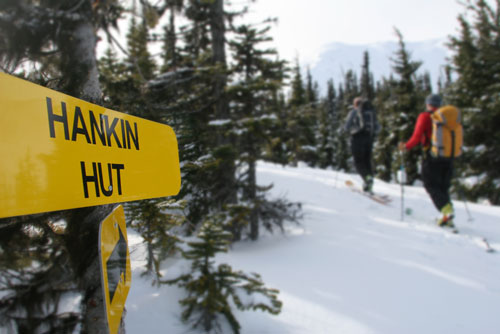 Hankin Evelyn Backcountry Ski Area
The idea of a dedicated backcountry ski area may sound like a contradiction of terms to many veteran backcountry users. But it's a concept that has brought the backcountry ski community in Smithers, British Columbia together and launched a new concept in human powered skiing. The project is called Hankin-Evelyn and it revolves around creating access to skiable acreage plus basic facilities to support the local ski scene including a day-use shelter, an overnight shelter and gladed ski runs.
Access is by skinning from a variety of trailheads and the terrain ranges from modest tree glades to full alpine bowls. You should read more about it because it's a great place to go visit and ski but also because it's a great concept in community building and resource use. It fits the Smithers area very well because non-motorized access to good skiing was limited, but the result is a great resource that would make any backcountry ski community stoked.