Gifts for Skiers
Need holiday gifts for skiers on your Christmas list? Short of setting them up with a hut trip or new powder skis, we've put together a few of our favorite gifts for skiers to help seed your holiday shopping with fresh ideas – all for under $100.
Leatherman Skeletool Multi-Tool $60
Never let your favorite skier head into the backcountry without a proper multi-tool to address unforeseen problems. For the gram-counting minimalist, the Leatherman Skeletool is the clear choice in bit-driver multi-tools. It includes the basic essentials for turning screws, cutting stuff and the utility of pliers in a light five ounce design. Be sure to get the add-on bit extender for added utility. Read more our Multi-Tools for Skiers review for more details or just trust me and get the Leatherman Skeletool Multi-Tool plus Bit Extender.
Rocker Ski Racks – $39 – $199
Tired of tripping over the ski quiver? Skis have a way of cluttering your garage, hallway, closet or wherever it is you happen to store them. We all know what happens when you simply lean your skis against the nearest available wall – if they don't fall over right away, they will fall over eventually – often taking a few other choice items with them on their way to the ground.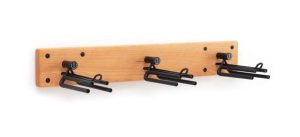 Rocker ski racks is the best off-the-shelf ski rack I have used. The ingenious ski rack offers an efficient and functional way to store today's rockered skis and older skis too, for that matter.  You can guy them indivdually or get a multi-ski edition. The best part is that they don't compress the skis or require any additional ski straps. Read our review of Rocker Ski Racks.
Voile Ski Tuning Stand / Tree – $60
Our go-to off-the-shelf ski tuning stand is the Voile Ski /Board Tuning Tree. They create a platform that is a full 12 inches across, so they are rock solid and accommodate today's big skis or a snowboard with ease. Set-up is easy – just clamp them to your workbench surface and away you go waxing and tuning. The top features grippy rubber to keep your skis from sliding, offering a solid platform for waxing and mounting. There's even a slot for putting your boards on edge to do tuning work.. Get them directly from Voile for $60.
Pistil Designs Hats – $36-$42
There's no such thing as too many hats. In fact, you can calculate the number of hats a skier should own with the equation n+1, where n equals the number currently owned. When it's cold and blown' like it's prone to be in the winter, we reach for a wool hat from Pistil Designs.
TLG8 Goggle Case – $20-$33
Who wants to pack a big hardshell goggle case? Not us. Tailgate Industries in Bend, Oregon makes a sweet semi-rigid goggle cover that offers hard case protection without the bulk. The 49R goggle case is our favorite solution to keeping ski goggles safe and sound in your pack. The fleece-lined goggle case uses a rigid face (made of 100% recycled plastic) and a soft pocket with overlapping fabrics to secure and protect your goggles when not in use. The case is curved to match the shape of your goggles and creates a slim, non-bulky case that fits easily into your pack, with or without the goggles in it. Check out www.tlg8.com for all the beta.
Darn Tough Ski Socks – $25
Socks, how boring, right? Well, actually new socks are a real treat and make great skier gifts. Make it Darn Tough Ski Socks and you're talking happy feet. Good ski socks are kind of like toques; there's no such thing as having too many. We suggest going with thinner over thicker weave and prefer the Darn Tough Over-the-Calf Padded Light Ski Socks. They offer extra padding where you need it – the shins – but not where you don't, so you get a good snug boot fit. They use a blend of merino and synthetic yarns that hugs your feet for blister-free ski touring. Darn Tough socks are born and bread in Vermont and live up to their name, really. These socks go the distance on durability – both in wear and in maintaining their stretch.