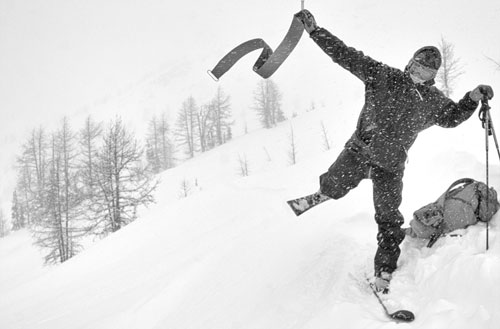 I posted a video clip and information about the the new Gecko glueless climbing skins back in November. At the time, I had yet to use the skins on snow. With the season underway, I have now had the Gecko skins in about every condition possible except bitter cold. The results have been great. They work every bit as good as any skin I have used. In fact, they function incredibly similar to a typical glued skin, in a good way. The biggest difference being that they are very easy to peel apart from one another.
Although they are called glueless, the Geckos are still adhesive. It's just not a skin glue like we all know. It's a proprietary tacky silicone adhesive and, according to the specs, requires no reapplication. Debris like pine needles, leaves and dirt can be washed off with warm water.
Will it last forever? I don't know. The adhesion has been great for the two months I have had them, and I plan to keep testing them (if we could just get some more snow). They work every bit as good as they did the first day I opened the box, and the adhesive side is every bit as clean and smooth as it was when new. Interestingly, they actually stick to my skis better than some of the glued skins I have used. Not that I have really had trouble with glued skins staying on my skis, but the Gecko's grip to the ski is actually more vigorous than a glued skin when it comes time to rip skins for the descent. They still peel just fine, but it's comforting to know they are securely attached.
One characteristic the Geckos share with traditional glue skins is that you need to keep them out of the snow. Snow on the adhesive side has the same effect as snow on a glued skin. So when dropped in the pow, they need some attention. The good news is they are easy to clean, just rub them along your ski edge or pop them inside your jacket, and they return to full functionality just fine. If your looking for a truly glueless skin, you need to check out Clip Skins. Made in Canada, the Clip Skins use small stainless clips to stay attached to your skis and have no adhesive of any sort. You can read more about the Clip Skins in this review of climbing skins or in this blog post about skins.
The bottom line thus far with the Geckos is all good. The tip and tail work well and the mohair plush glides (and climbs) very nicely. The glueless adhesive has been treating me great, and I look forward to more time with them, not to mention some fresh snow for the forecast!
You can pick up climbing skins from evo.com