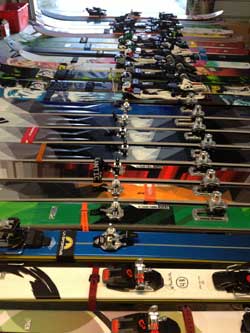 We've just about wrapped up our annual ski testing for the season. This year we've been checking out backcountry ski offerings from Black Diamond, G3, Voile, DPS, Volkl, Kastle, K2, Dynastar, La Sportiva, Dynafit and Fat-ypus.
Dedicated backcountry skiers should be stoked to hear that everbody's offerings are lighter and more versatile than ever. Multiple companies (DPS, BD) are now using prepreg construction (versus wet lay up) where fiberglass or carbon fiber layers are pre-impregnated with epoxy resins. The approach is helping to make skis lighter by controlling resin amounts and the results are noticable.
There are also more companies offering variations on the five-point shape that DPS and others have helped to popularize where the widest points on the skis are further from the tip and tail than on a more traditionally sidecut ski.
105-115 (give or take a few mm) appears to be the biggest growth sector with several very fun boards fitting the category including the Voile V8, Black Diamond Convert, Dynastar Cham107, Dynafit Grand Teton and G3 Empress 115.
Our final testing wraps up this weekend and I'll post some specifics on several skis once we are done. In the meantine, here is a line-up of a few top picks. From left to right: Dynafit Grand Teton, DPS Wailer 112, Volkl V-Werks Katana, BD Convert, G3 Empress 115, Voile V8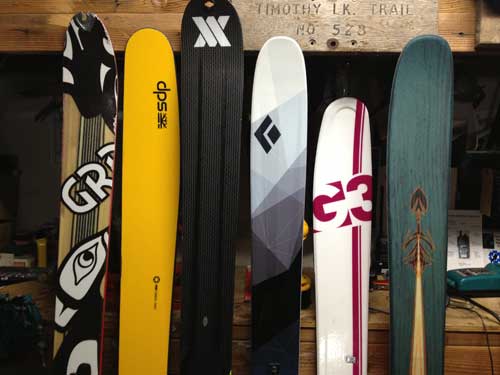 shop for deals on backcountry ski gear at evo and support Off-Piste Mag
shop for deals on backcountry ski gear at backcountry.com and support Off-Piste Mag