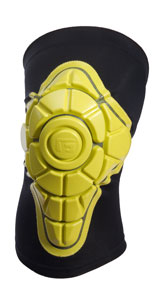 G-Form Knee Pads
Protecting your knees while skiing should be a no-brainer. We pad our heads with helmets and protect our bodies with avalanche safety gear – I'd like to think I'm more likley to hit my knee than trigger an avalanche; it only makes sense to wear knee pads, too.
Once mainly the domain of telemark skiers, knee pads were rather bulky, hard shelled items that we strapped on for fear of dropping a knee into a stump or rock. Sure, pads evolved a bit and became more comfortable than the classic roller derby style hard shells, but I have not worn knee pads since my dedicated telemark days, until now. G-Form pads take the art of protective padding to a new level of comfort and function. The pads are a game changer.
Now, I'm not prone to hucking myself off large precipices or cartwheeling down steep, rock-lined chutes, but I have certainly had the occasional run in with a hard object while backcountry skiing. The G-Frorm pads are soft, flexible and comfortable to wear. They are unlike any pad I have ever worn and, in fact, hardly feel like you're wearing a pad at all. The classic sweaty, bunching and rubbing of old school hard pads are non-issues with the G-Form style. These are pads you want to wear.
The protection technology is called RPT™ – Reactive Protection Technology, a composite blend of proprietary materials – and offers repeated impact protection. The key being: the material stiffens on impact to absorb 90% of the impact energy (so says the tech talk).
The design is flexible and promotes full range of motion. There's no bunching or hindering behind your knee. Thanks to the flexible design and stretch compression fabric, they slip on under your base layers and feel great. I have been using the G-Form knee and elbow pads on longboard skateboard sessions this summer with great results. Fortunately for my body but unfortunately for the sake of testing, I have yet to put their true crash protection to the test, but I'm confident they'll deliver. They are definitely comfortable and foster a good sense of protection without any of the classic bulky or awkward feelings associated with more rigid style pads.
Though I'm not not likely to consider donning full armor on my next ski tour or huck the nearest cliff band like a rockstar, the G-form knee pads are welcome addition to my kit. Not only will they offer crash protection, they'll help to keep my knee joints warm, too. They're even fully washable.
Support Off-Piste Mag when you shop online for G-Form Pads