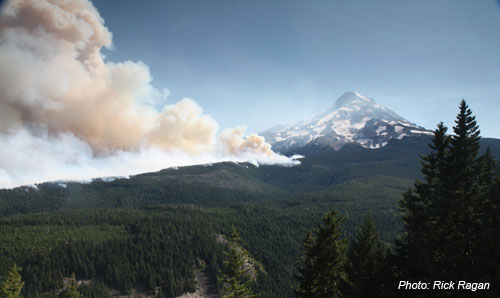 Wildfire season is in full swing here in Oregon, and even Mt. Hood is proving to be ripe for fire. A wildfire on Mt. Hood's northern flanks believed to be started by lightening on Aug. 26 has grown to over 1500 acres. The fire started in the Dollar Lake area near Elk Cove on Mt. Hood's north side and grew quickly on Sunday and Monday fueled by steady west winds and warm temps.
The fire's rapid growth has closed numerous trails, campgrounds and roads on Hood's north side including:
Vista Ridge Trail
Gnarl Ridge Trail
Elk Cove Trail
Pinnacle Trail
Cloud Cap Campground
Tilly Jane Campground
Kinnikinnick Campground at Laurence Lake
Word is that the fire has burned accross to Stranahan Ridge just NW of the Cloud Cap and Tilly Jane historic areas. Historic structures at Tilly Jane and Cloud Cap, which narrowly escaped being destroyed by the Gnarl Ridge Fire in 2008, are being threatened once again by this fire. The USFS reports, "Firefighters are wrapping the historic Cloud Cap Inn with fire resistant material. A task force of engines is assigned to the protection of structures in the vicinity of Cloud Cap Inn and the Tilly Jane Historic District."
More photos and updates as we get more information.