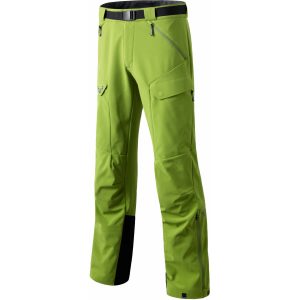 The Dynafit Vulcan Pant arrived here at the office this fall. It's a new softshell backcountry ski pant and part of a broader line of clothing that Dynafit launched in the US this year. While I haven't had them on snow too much yet, I have put them through the paces this fall.
I'm a firm believer in softshell pants for ski touring, even here in the Pacific Northwest, where Mother Nature rains on the party now and then. Breathability over total waterproofness is a fair trade for 95% of my ski days. The softshell category has developed into an increasingly wide array of fabric weights and performance levels in the last few years and the new Dynafit Vulcan pant is not a pure softshell. It's a softshell laminated with a windproof membrane and designed to be warmer than a hardshell but with much better breathability.
The fabric just sounds like it will take care of you – Stormwall Extreme Dynafit Powershield 200, it's called in the specs. It's only slightly heavier than a straight up softshell and every bit as soft in its feel. If there's a mark against basic softshell pants, it's that they can prove a little light on protection for some folks on mid-winter days and when used for the occasional lift day. The new Dynafit Vulcan Pant is prepared to go the distance in colder, stormier conditions. Two hikes to fresh snow and a few cold, rainy morning rides have left me impressed with the fabric, DWR coating and breathability of the Vulcan Pant.
Here's my take on a few characteristics, what I call the four F's – Fit, Finish, Function and Fashion.
Fit: To Dynafit's credit, the Vulcan pant is freeride not rando in its cut, so they fit like most of us want them to – loose but still athletic (versus boarder baggy). They feel good and make you want to move.
Finish: The pant is well made and quality is at least equal to other leading brands. The inside is soft and feels good, even without a base layer under them. I haven't worn them quite enough to know if the seam down the center of the thigh will bug me over time or not; it seems like they might have made the leg with too many panels. But I'm being pretty picky with that criticism. The built-in gaiter fits over AT boots and snugs down to seal out snow. There's a built-in belt and suspender loops but no actual suspenders, and it does not appear that Dynafit offers suspenders. Personally, I think they should come with the pants, but not everyone likes suspenders. Beefy cuffs add durability.
Function: My modest testing shows the Vulcan is exceptionally windproof, darn near waterproof and warmer than say my old Cloudveil Razor or Patagonia Guide pants, while still maintaining good breathability. Short thigh vent zips help boost breathability. Pockets are well placed and easily accessed. They have a slick magnetized flap on the thigh pocket that's easily managed with gloves. The magnet closure means you shouldn't be using any of the pockets for your beacon, as some skiers do. In fact, Dynafit recommends beacons be worn on the body, not in  a pants' pocket.
Fashion: The cut and fit are definitely more North American than Euro, though the "apple" color option could go either way. As Kermit the Frog was fond of saying, "It isn't easy being green," but it's the clear choice over the boring "asphalt" color option.
Overall, the Dynafit Vulcan pant fits great, offers all the right features and expands on the usable range of lighter softshells to serve a all of your winter missions.They make in men's and women's sizes. – M. Becker