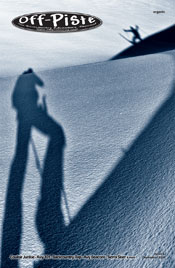 As backcountry skiers from Alaska to New England and beyond get in the rhythm of winter, the December 2011 issue of Off-Piste Mag, Issue 51, is at the printer and scheduled to ship next week. Issue 51 includes features that range from a profile of Brian Cross – aka the Bald Bomber to confessions of a couloir junkie and the continuation of our four-part regional skier interviews. The December gear feature takes a look at five new three-antenna avalanche beacons, and the Avalanche 101 article discusses when to dig.
In other news, thanks to all the new and existing subscribers who entered into our November subscription promo sponsored by Genuine Guide Gear (G3). We will notify the winner of the G3 avalanche safety gear on December 1 and announce the new December subscription promo too! Entry for the November promo is now closed, but you can still enter the December contest by subscribing or, if you are already a subscriber, by sending us an e-mail asking to be entered. Anyone who entered the November contest will automatically be entered into the December round.
Check out the cover image featuring a shot by Jason Hummel.