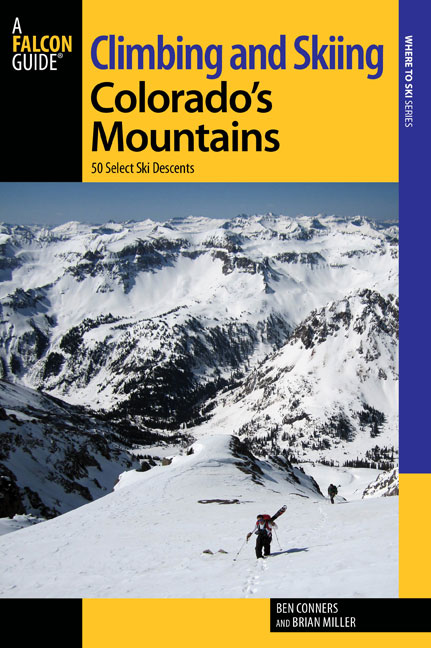 The Colorado Rockies have a long history of climbing and skiing and there are many lifetimes of descents to be earned within the state's boundaries. Climbing and Skiing Colorado's Mountains – 50 Select Ski Descents aims to help you select some of the best.
While well known for its fourteeners, Colorado is, of course, full of countless lower elevation peaks. And rather than simply focus on the well-travelled fourteeners, authors Ben Conners and Brian Miller offer a good variety of twelve- and thirteen-thousand-foot peaks plus a collection of classic fourteeners including Torreys, North Maroon and Sneffels.
Divided into seven ranges – the Front Range, Gore, Tenmile/Mosquito, Sawatch, Sangre de Cristo, Elk and the San Juans – Climbing and Skiing Colorado's Mountains offers a quick overview and difficulty rating of the main objective of each route plus a detailed narrative for the approach and terrain. The narrative puts you on the route and it's obvious these guys have been there too. Another nice touch is the color images and full-page maps that help bring each route to life. The vast majority of the routes are presented as spring ski adventures, and it's the authors' goal to highlight the spring season as the best time to pursue them.
Conners and Miller have done a great job of selecting aesthetic lines and striking couloirs. Perhaps one of the most striking lines in the book is the San Joaquin Couloir in the San Juan Mountains. Visible from the Telluride Ski Resort, The San Joaquin Couloir is a test-piece for skiers looking to prove their mettle. But the guidebook offers more than just bold, steep lines, there are plenty of routes that appeal to more intermediate level backcountry skiers including the classic East Face of Quandary Peak. It's a gateway summit descent for sure and a fourteener to boot.
Climbing and Skiing Colorado's Mountains – 50 Select Ski Descents captures a wide variety of skiing in Colorado. From bold couloirs to classic backcountry summits, the book has all the right ingredients to inspire adventure.
Climbing and Skiing Colorado's Mountains: 50 Select Ski Descents buy it!