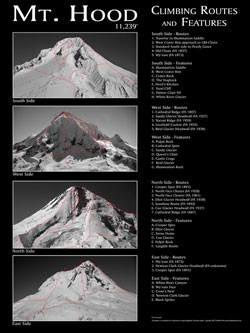 Spring weather is slowly settling in here in the Pacific Northwest, and the corn snow is starting to ripen. Volcano climbing and skiing season is upon us! It is the ideal time to climb Mount Hood or other volcanoes with the intent to ski down (why else would you climb anything).
If climbing Mount Hood is on your radar, check out our Mt. Hood Climbing Poster. They are only $12 (with shipping in the USA). The poster shows all of the classic climbing routes on aerial photos and gives their first ascent dates.
Mt. Hood offers a quintessential volcano climbing experience, and many of Hood's climbing routes make excellent ski descents. If you have ever thought about standing on the summit of Mount Hood, this season's healthy snowpack should make for a great climbing and skiing season on Hood.
Looking for other volcano ski adventures? Check out the feature article from the March issue of Off-Piste Magazine with beta on Cascade Volcano ski routes from Mount Rainier to Mount Lassen (5MB file).