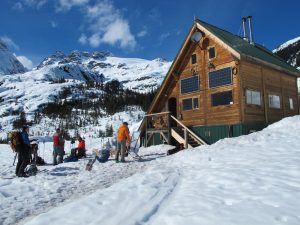 The Burnie Glacier Chalet, B.C.'s most northwesterly backcountry ski lodge, recently hosted a CAA Level I Avalanche Course. Last week's weather was horrible for skiing, but in combination with an uncommon widespread buried surface hoar layer, the weather made for ideal avalanche course conditions. When can you observe size 2.5's running before your popping eyes (from a safe distance, of course). Where can you see avalanches flying over cliffs, exploding on the glacier below? And where can you see the correlation between fancy new tests like a propagation saw test with natural avalanches? Well, you could last week at the Burnie Glacier Chalet. We had students from Whitehorse Yukon, Valemount BC and Davos Switzerland. Yes, a veritable meteorologist working for the famous Swiss Federal Institute for Snow and Avalanche Research did his Level I with us – and came away impressed. Not only with Canadian professional avalanche courses, but also with our terrain, and of course, Monika's cooking.
I'm happy to say that while last week saw some major carnage, the
Howsons snowpack has now healed itself. The surface hoar is gone and we
are back to our usual storm snow concerns.
Saturday, I guided the Solitaire Ski Peak and skied 1200 vertical meters of powder with no
avalanche activity in sight. And over 350 cm of snow at the toe of the
Solitaire Glacier.
Christoph Dietzfelbinger
IFMGA/ UIAGM Mountain Guide – Bear Mountaineering and the Burnie Glacier Chalet
www.bearmountaineering.ca