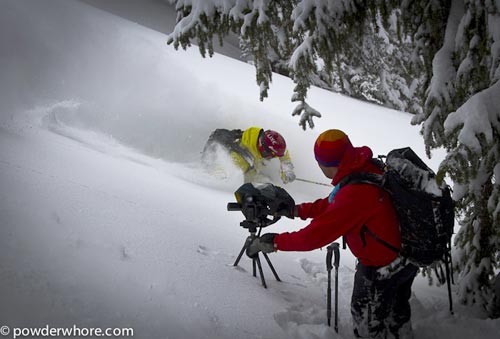 The Howell brothers are at it again: Powderwhore Productions has just released their 2011-12 ski movie trailer, Breaking Trail.
The new film departs from their telemark specific focus of past seasons in favor of the full gammut of snow sliding tools, telemark, alpine touring and splitboarding. They remain focused on human powered access, and as the title implies, the Powderwhore crew puts in some serious trail breaking hours. In their own words,
Warning! There are no shots of helicopters filming other helicopters or hankie-clad 16-year-olds hepped up on energy drinks spinning to rap music. And you won't win a Jeep if you come out to a premiere. You will find a mixed bag of highly talented and dedicated individuals who enjoy hiking out into the unknown in search of turns and adventure. All this captured by two video hacks carrying as little as necessary in order to travel fast and light.
Breakin Trail premiers on September 28 in Salt Lake City. Check out the Powderwhore website for full details on their movie tour. They will be in our Hood River neigborhood on October 12.