The boutique or handmade ski movement is gaining momentum. Numerous smaller manufacturers are popping up in North America. From Ski Builders.com to 333 Skis to Wagner Custom to ON3p, small manufacturers run the gamut of variety and approach. I hesitate to use the term handmade skis because even the big ski operations use plenty of hand labor in laying up skis, and even the little guys use some type of mechanical press.
For the most part, except for the full custom shops, the small builders are making more resort oriented (broader appeal) skis. Arguably, Voile could be considered a small ski manufacturer and, although their skis are not custom, they are most definitely touring-minded in their design and weight. The Insane has garnered top ratings in our ski testing for several seasons, and the new Drifter rockered ski  did well this season, too. Winter in the Northwest has been a bit off the past few weeks to say the least, but we have plans for more time on the Drifter once the snow cycle comes back into shape around here.
I recently connected with a new boutique ski company out of Vancouver, BC called Crown Skis. I  spoke with CEO Mike Alexander and Marketing Director Jeff Bos about their current line of skis and the potential for some touring-minded boards in the future.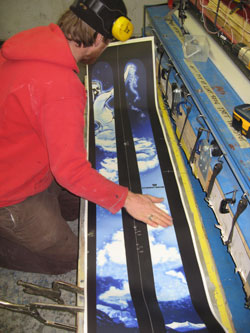 Right now, Crown has two skis in their line-up: the Satori 127/97/118 and the Kensho 142/106/122. Both skis offer good softsnow dimensions, but they are more resort focused than touring-minded in their construction/weight specs. This is Crown's first season offering open retail sales, but they produced skis the past two seasons as part of in-house development and beta testing. We should have a pair to demo here shortly.
More on the boutique ski movement in the March issue of the mag.
Read about the handmade ski movement in Off-Piste mag