Deep Powder and Steep Rock
The Life of Mountain Guide Hans Gmoser by Chic Scott
Hans Gmoser was a pioneer in the world of alpine adventure. Raised in Austria during World War II, Gmoser moved to Canada at age 19 and proceeded to pursue his dreams in the mountains. He went on to claim countless first ascents including epic adventures on the East Ridge of Mount Logan and Denali's Wickersham Wall. He pushed mountaineering and adventure skiing in the Canadian Rockies and beyond. Gmoser's drive to climb and ski earned him a reputation summed up in the statement, "On an expedition with Hans, suffering was mandatory, pleasure was optional."
Gmoser died in 2006 following injuries sustained in a bicycling accident. Deep Powder and Steep Rock – The Life of Mountain Guide Hans Gmoser by Chic Scott is a thorough and entertaining biography fitting of Gmoser's accomplishments. Scott, an accomplished mountaineer in his own right, offers a complete window into the life and adventures of a pioneering mountaineer.
Scott first met Hans Gmoser in 1963. Scott was 18 years old with a healthy case of the climbing bug. Gmoser was, at the time, the king of North American mountaineering. As Scott puts it, "He put Canadian mountains on the map. He was one of the founders of the Association of Canadian Mountain Guides and was the founder of the sport of heli-skiing. Everyone working in the mountain adventure business in western Canada today owes their job to Hans."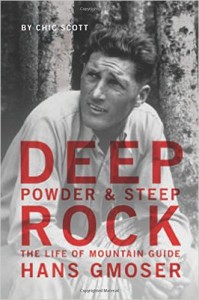 Following Gmoser's death in 2006, his wife asked Scott to write a biography. Deep Powder and Steep Rock is full of mountaineering history and anecdotes about Gmoser's life and adventures. Scott spent three years, researching, writing and publishing the book, and his attention to detail is impressive. From researching Gmoser's childhood to spending time at several of Gmoser's favorite mountain huts, Scott put his heart into this book and it shows.
Gmoser is well known for his pioneering role in the world of heli-skiing and his successful Canadian Mountain Holidays heli-ski company, but Deep Powder and Steep Rock offers a broad window into his life and the driving forces behind all of his accomplishments. The book includes a DVD with three ski films that Gmoser made in the fifties and sixties. Scott paints a picture of a man who lead Canada into the mountains and the book is a must read for anyone drawn to climbing and skiing.
Support Off-Piste Mag with your purchase of Deep Powder and Steep Rock: The Life of Mountain Guide Hans Gmoser
  NOW available in paperback!