A shovel, the most basic of avalanche safety tools, is one of the least glamorous
items in our packs, but we all carry them. We have to. Because when the situation calls for a shovel, there is no substitute. I've been using the BCA RS Avalanche Shovel. The shovel is designed with companion rescue in mind, but has several cool details that add to its overall utility beyond that of basic avalanche rescue.
The BCA RS Avalanche Shovel delivers a strong first impression, literally. Obviously built to last, everything from the powder coated handle to the blade gusset and handle/blade interface are stout. Still, it weighs in at a respectable 1 lb 14 oz (850 g) including the  rescue sled hardware that is included with the "plus" model. You can find a slightly lighter shovel, but given the 9"x11" blade size and extendable handle, the weight is competitive.
One of the first things you notice on the BCA shovel is the asymmetrical t-grip. The grip is designed to attach to the shovel to create a hoe tool, so one side of the grip is longer to interface with the blade. The idea seems pretty cool, and the hoe configuration proved useful for clearing snow in some basic digging scenarios. In practice, this shovel digs, chops and moves snow great, regardless of which configuration you use. The secure handle/blade interface delivers a solid feel when digging. The handle also happens to doubles as a hammer for driving pickets (or stubborn gear and ski partners).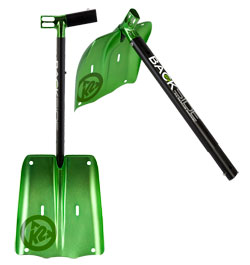 The blade is middle-of-the-road in size, offers holes for creating a deadman-style snow anchor and I found its shape great for easily creating flat snow pit walls and conducting various stability tests. The fully extended handle measures about 22 inches, pretty average when compared to other brands.
All in all, it's a great shovel. Although I hope to never have to use it for companion rescue, I am confident it is up to the task.