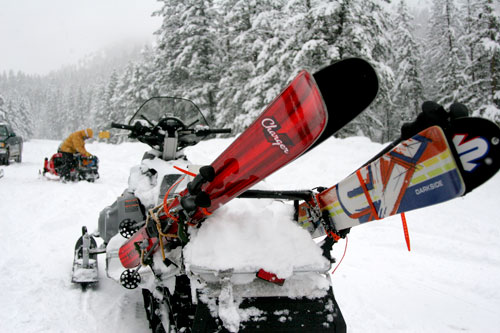 Ski testing season is upon us. 2011 is our twelfth season of testing and reviewing backcountry skis. We have already been able to get on a few skis, but the bulk our testing happens in late March and early April. I will post more information about our ski line-up as they begin to arrive, but the list includes backcountry skis from Voile, Black Diamond, K2, Volkl, La Sportiva, Dynafit, G3, Armada, Faction, Prior,  Movement and more.
There are a surprisingly large number of new backcountry skis for the 2011-12 season and quite a few holdovers from this season. We conduct most of our testing up at Mt. Hood with a dedicated crew of experienced skiers. A handful of select boards then head up to BC for a final hut trip of the season where we put the them through rigorous field testing and discuss their merits on the uptracks. Yes, it is a difficult job, but we manage.
We get more requests for our ski review issue than any other copy of the mag all season (it is always in the October issue). We always hold off on setting the review loose on the web until our publishing season comes to a close. The idea here is that you subscribe to get the mag – thereby supporting our dedicated efforts. We definitely appreciate your support.
Here is the 2010 Off-Piste Magazine backcountry ski review.

shop for deals on backcountry skis and support Off-Piste Mag

shop for deals on backcountry skis at omc gear and support Off-Piste Mag