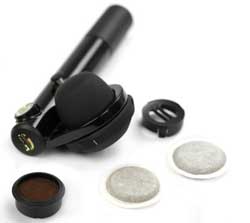 Backcountry Espresso – Handpresso Wild: Coffee and backcountry travel go hand in hand. Whether waking up inside a tent or simply between quality coffee outlets while road tripping, a good cup of coffee has a way of making everything better. Yes, I'm surely addicted and, like any good addict, I'm always on the lookout for ways to get a quality fix on the road or in the hills. My latest find is the Handpresso Wild.
This portable espresso maker uses pump action – much like a small bike pump – to build up pressure (16 bar) and delivers an impressively smooth shot of espresso. It is easy to use, quick to deliver and simple to clean. Adding to its backcountry and travel-friendly character is the fact that it only requires hot water and ground coffee to work, no power, no batteries. Hot water can be supplied by freshly boiled water from your camp stove or even hot water stored in a thermos. The Handpresso Wild works with your ground coffee of choice and with special espresso pods.
The specialty espresso pods produce a great shot of espresso and offer super easy  clean up, but my preference is for ground coffee, so I am not always dependent on having specialty pods around. Either way, the process is simple:
Pump the Handpresso unit to 16 Bar
Fill the reservoir with hot water
Add coffee to filter basket or insert E.S.E Pod
Tighten cover
Push pressure switch
Espresso is ready.
I've been making double and single americanos with great success. The shots are smooth and full of flavor with a healthy coating of crema for an authentic espresso experience. No electricity or batteries required, just hot water, coffee and your energy to pump the pressure.
The only real downside to the Handpresso Wild is its stout metal construction keeps it a bit on the heavy side at 18 ounces (510g), but it's a small price to pay for a civilized shot of espresso in the hills or on the road. The construction also speaks to the tool's durability and quality. It feels as up for adventure as it is ready to deliver quality espresso in the mountains.
If you can't find the Handpresso locally, you can support the mag with a purchase through amazon or backcountry.com