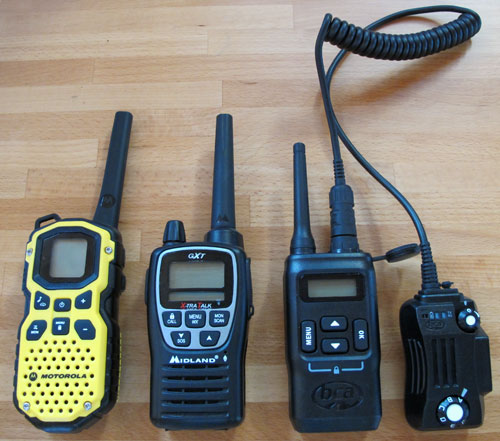 Backcountry Access BC Link FRS Radio Review
Good communication in the backcountry means many things, but on the most basic level it's about actually being able to talk to each other. Two-way radios are a great tool to facilitate communication when the terrain splits the group. Whether it's simply to make sure you get a photo set up just right or to share vital terrain and ski line beta, radios make it easy to relay info quickly and efficiently.
There are a variety of good quality two-way FRS radios (FRS refers to Family Radio Service and represents power levels and frequencies that do not require an operator's license – think Motorola TalkAbouts and such) on the market from big names like Motorola and Midland, but one of the biggest obstacles to good radio communication is simply keeping your radio handy, so you can and will actually use it on the fly. A basic handheld model can be clipped to your pack where you risk losing it while skiing or crashing. Or you can zip it into a jacket or pant pocket where it is no longer so handy with gloved hands.
The crew at Backcountry Access (BCA) recognized the ease of use problem and entered the market this season with a cool new two-way radio set-up called the BC Link that addresses ease of use by incorporating a remote speaker/mic into a basic two-way FRS radio. Of course, you could add a remote speaker mic to an existing FRS radio, but  BCA takes the idea a step further by adding on/off/volume control and the ability to change frequencies from the remote speaker/mic, too. In fact, the BC Link does not include a speaker/mic on the radio body. It's designed to be used with the remote mic at all times.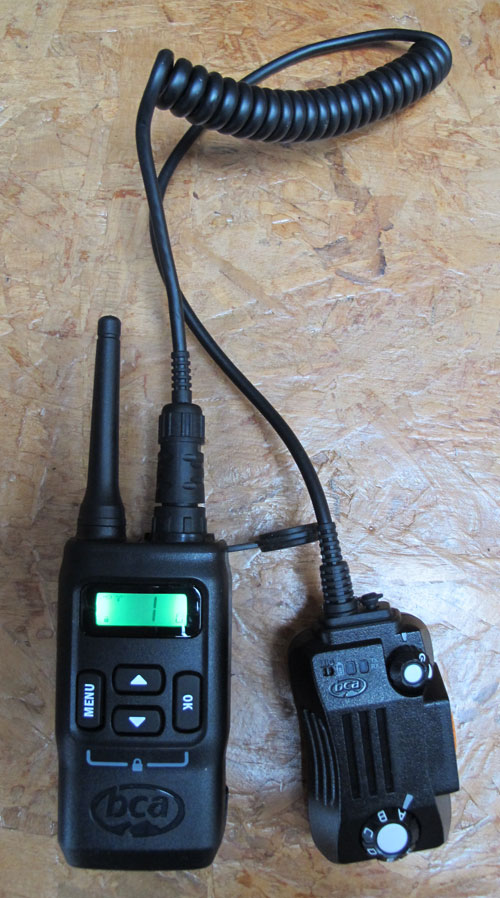 I used the new BC Link on a recent week-long hut trip in British Columbia with great results. The radio system worked flawlessly with a variety of other handheld FRS radio units over the week. The beauty of being in a remote situation is there's no interference from other users in the area – a limitation to the FRS radio in more frontcountry situations.
As you can see from the top photo, the BC Link radio itself is a little smaller than similarly spec'd Motorola and Midland radios. Signal range and speaker clarity were as good as or better than any of the other various FRS radios on hand. The electronics spec out the same as other FRS radios with 1 watt of power on FRS channels and 0.5 watt on GMRS.  BCA claims a max 140 hours per battery charge, and the system is also waterproof enough to handle exposure to snow and precip in the field. The battery held strong for multiple days of use, though when accidentally left on overnight on day three or four, it did require re-charging.
The BC Link FRS Radio is designed so that you can keep the radio portion safe in your pack while the remote speaker/mic can be clipped to your pack strap for super easy access. I actually ran the cord inside the hydration port on my pack strap (I did not have a hydration tube in it) to keep it extra stealth, but it'll work just fine with the cord on the outside too. Having the ability to adjust the volume and even turn the radio off or on within easy reach worked great. Another plus is that the push-to-talk and other buttons/knobs are all relatively functional with gloved hands, so it really works on the fly.
Granted, a radio is one more electronic device to add to your kit, but they can be really useful for everything from photo sessions to emergencies, and the BC Link is designed with skiing/backcountry travel in mind; ie waterproof construction and glove friendly.

Highlights / Unique features:
Radio body has no speaker/mic. It's designed to work specifically with the remote mic set-up.
You can program six FRS/GMRS frequencies for easy access from the dial on the mic.
Built-in rechargeable lithium ion battery uses USB port/wall plug adapter to charge (included).
Charge lasts multiple days with normal use. Easily recharges in a few hours from full drain.
Compatible with 22 FRS Radio and GMRS channels + 121 sub-channels.
Waterproof to IP56 Standards – good enough for weather exposure
Easily programmable for easy field use.
Works with any backpack, but BCA packs now include dedicated radio pockets.
Shop for the Backcountry Access BC Link FRS Radio