Add On-The-Fly Communication to Your Backcountry Ski Packing List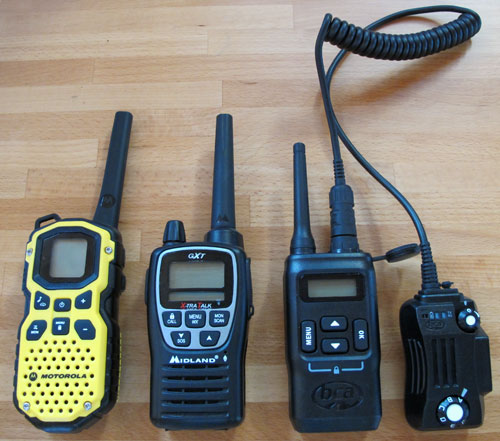 Good communication in the backcountry means many things. On the most basic level, communication is about actually being able to talk to each other. Two-way radios facilitate communication when the terrain splits your group. Whether it's simply to make sure you get a photo set up just right or to share vital terrain and safety beta, radios let you communicate quickly and efficiently while skiing in the backcountry. There are a variety of good quality two-way FRS radios on the market. But the biggest obstacle to good radio use is simply having your radio handy, so you can and will actually use it. The Backcountry Access BC Link 2.0 FRS Radio makes access easy with a remote mic built into the design.
On The Fly Radio Access
The BC Link 2.0 FRS radio makes access easy with its remote speaker/mic. The weater-resistant mic clips to the shoulder strap of your pack for full-time accessibility. BCA takes the ease of use one step further by adding on/off/volume control and the ability to change frequencies from the remote mic, too. The BC Link 2.0 is designed to be used with the remote mic at all times.
The radio works with other handheld FRS radios and allows you to change frequencies within the FRS/GMRS channel range to find a private channel. It offers access to 22 FRS/GMRS channels plus 121 sub-channels.
The BC Link is smaller than similarly spec'd Motorola and Midland radios, and at two watts of power on FRS channels it is twice as poweful as the original BC Link and many other FRS radios. It uses a recharbale battery that with a max of 40 hours per battery charge. The whole system is weather-proof enough to handle exposure to snow and precip in the field. In testing, the battery held strong for multiple days of use.
The BC Link FRS Radio is designed so that you can keep the radio portion secure in your pack while the remote speaker/mic clips to your pack strap for super easy access. You can run the cord inside your pack's hydration routing or simply run it out of the top of the pack. Having the ability to adjust the volume and even turn the radio off or on without digging through your pack is what sets the BC Link apart from other radios.
Range is solid thanks to its two-watt transmitter, and the buttons and knobs are all relatively functional with gloved hands. On the fly access is easy. The BC Link 2.0 FRS Radio is a solid addition to any backcountry touring kit.
Highlights / Unique features:
Radio body has no speaker/mic. It's designed to work specifically with the remote mic set-up.
You can program six FRS/GMRS frequencies for easy access from the dial on the mic.
Built-in rechargeable lithium ion battery uses USB port/wall plug adapter to charge (included).
Charge lasts multiple days with normal use. Easily recharges in a few hours from full drain.
Compatible with 22 FRS Radio and GMRS channels + 121 sub-channels.
Waterproof to IP56 Standards – holds up to winter weather exposure
Easily programmable
BC Link 2.0 $179 (latest 2 watt model)
Check prices and availabiliy for the BC Link 2.o FRS Radio
Read about designated radio channels for backcountry zones in Colorado, Utah and Washington
See what else we carry on our ski packs – read our backcountry ski packing list article
support offpistemag.com when you purchase through our affiliate links and banners