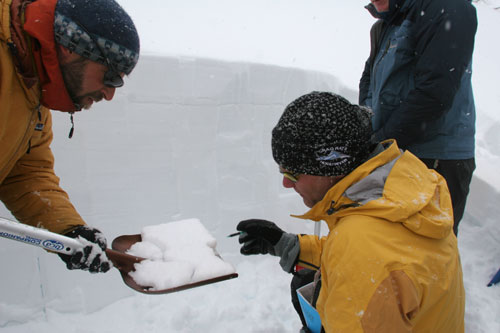 Winter seems to have gotten up to speed mighty fast. The first powder turns of the season are already old news and the first avalanche fatalities of the season have already made the news (Colorado and Utah), and it is only November. British Columbia has issued a high avalanche hazard warning for the South Coast and storms appear to be lining up in the Pacific, ready to deliver more snow. It sounds like a good time to ask if you are ready for the season and to evaluate your skills. Make this the year that you take an avalanche class, hone your route finding skills or take your avalanche education to the next level.
There numerous qualified sources to begin or further your backcountry skills. We ran an article about choosing a quality avalanche safety course a couple of seasons ago, and the information holds true today. Ultimately, the quality of any course is determined by the experience and training of the instructor. When looking for courses, ask whether instructors are affiliated with organizations such as the American or Canadian Avalanche Associations (CAA) or the American Institute for Avalanche Research and Education (AIARE), and find out if instructors are certified members of the American Mountain Guides Association or the Association of Canadian Mountain Guides. Detailed content standards and certified instructors can be found on the American Avalanche Association website.
Several of our supporters (look to banners on the right – a little shameless promotion for our supporters) offer certified AIARE courses and many of the Canadian backcountry lodges offer CAA affiliated courses. From Payette Powder Guides and Sawtooth Mountain Guides in Idaho to Three Sisters Backcountry and Wallowa Alpine Huts in Oregon to North Cascades Mountain Guides and the the Northwest Mountain School in Washington, there are numerous quality options for in depth avalanche safety education.
If a straight up avalanche class does not tempt you, consider a general backcountry skills workshop, a course to expand your comfort in the backcountry and help build your general skill set, including staying safe in avalanche terrain. What better way to build your own skills than to spend several days with veteran ski guides. Skiing with guides is always educational. North Cascades Mountain Guides even offers a women's specific backcountry workshop, run exclusively by women. The workshop pulls together the Northwest's top female instructors and guides for a long weekend clinic, run by women for women.
Clear your calendars, book a course and ramp up your skillset. If November is any indication, it looks like this is going to be a winter to remember, and the skiing is always better in the backcountry.