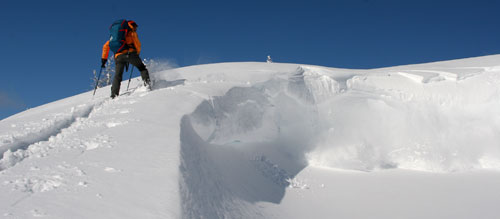 Avalanches are a backcountry skier's worst nightmare, and the three basics – beacon, shovel and probe – have long been considered required equipment for responsible ski touring in avalanche terrain. There is no question that evolving beacon technology has made searching more efficient, and that continued innovation in avalanche safety gear is providing skiers with more options to stack survival odds in their favor. Although not exactly a companion rescue tool on par with the three basics, the advent of the Avalung and now airbag packs is aimed at improving your chances for survival in the event of a slide. Whether you see them as self-preservation devices or essential avalanche safety tools, these packs are growing in popularity thanks to user-friendly and lightweight design improvements.
The Avalung, originally launched as a standalone sling worn over your shell, has become a familiar site among backcountry skiers of all levels thanks to its clean and affordable integration into the Black Diamond ski pack line. Avalungs add an additional layer of safety in the event of a slide without impacting the overall design, functionality or fit of Black Diamond's packs.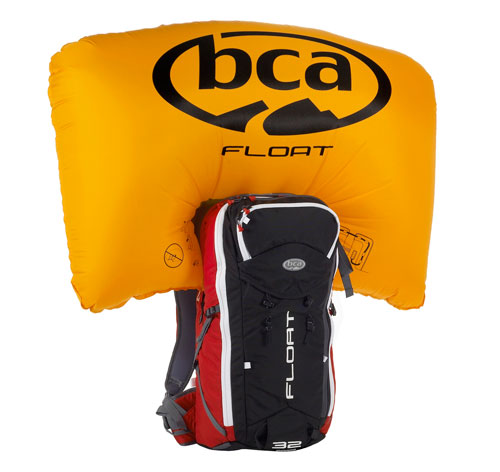 Following several high profile avalanche incidents last season, the next wave of avalanche safety devices to gain momentum is the airbag pack. Although they come with a significantly bigger price tag ($700+) than a standard ski pack or even an Avalung pack ($200+), airbag pack design has made significant strides in reducing weight and complexity of the system over the past couple of seasons. Although I recognize the value of the technology and its ability to save lives, I have, to some extent, written off airbags as devices most compatible with mechanized operations – heli ski, snow cat operations. That is until the newest crop of packs has begun to show that weight and ski touring functionality are beginning to gain design importance as the technical aspects of the system become smaller and more refined.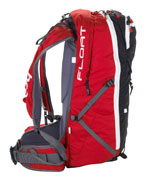 The latest crop of airbag packs is lighter and more touring-friendly than ever. We'll have a good look at several of the new airbag packs in the mag this season. The first pack to arrive in the office is the 2012 BCA Float 32. I have had a little experience with an earlier pre-production version, and the new Float 32 is significantly lighter (about 2 lbs) and cleaner in its design than our previous sample. The new pack weighs around 6 lbs, and is remarkably "normal" in its appearance and layout, save for the airbag components tucked into their spaces. Usable pack volume is 32 liters, hence the name Float 32, and there's a dedicated pocket for shovel and probe, a generous zip pocket for goggles or other small essentials and one large main compartment.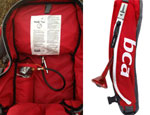 From a usable pack standard, it's clean, simple and offers the essentials for day touring. The airbag system has been dramatically streamlined from previous models, and this accounts for some of the pack's overall weight reduction. Further weight reduction comes from the pack's seemingly regular construction in contrast with the burly, apparently over-built construction of earlier models. The pack is a little long in the torso for me, but at 5′ 6″ on a tall day, one could argue that I'm a little short in the torso.
One of the standout features of the BCA Float packs is that BCA's airbag system uses compressed air rather than nitrogen or CO2 gas found in other systems. The Float's compressed air system is easily recharged at outdoor shops around the world. BCA also uses a simple mechanical trigger versus an explosively charged one-shot system.
More details to follow as we get more packs in the office and get dialed in on all of the details.
Shop for avalanche airbag packs and support Off-Piste Mag
more airbag pack options