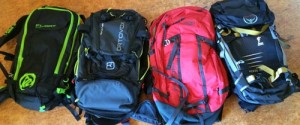 When avalanche airbag packs first began hitting the North American market, they were expensive, heavy and somewhat awkward in design compared to non-airbag packs. Airbag pack design, however, has evolved quickly the past couple of seasons and, though they are still spendy compared to a traditional ski pack, fit, design and pack options have come a long way.
As evidenced by the growing number of airbags I saw on the backs of backcountry skiers this past season, they are quickly becoming more than just a safety tool for snow professionals and heli skiers. And, given the number of different manufacturers adding airbag technology to their ski pack lines for 2014-15, I expect the coming season will reflect even greater growth.
There are those who suggest airbags are self-preservation devices that'll lead to poor decision making, but the growing consensus is that airbag packs are a cutting edge tool and offer an added layer of safety to compliment the standard self-rescue gear trifecta – beacon, shovel, probe.
Airbags, however, are not a silver bullet that guarantees your safety (Read an interesting discussion on airbag survival stats by the Utah Avalanche Center's, Bruce Tremper). They are merely one tool that has the potential to save lives. (Edit 10/14 – new articles published with specs related to burial and survival ratings by Swiss Avalanche Federation show an inflated airbag reduced mortality by one-half, from 22% to 11%. read more details of the Swiss Avalanche airbag study)
We've been testing a variety of 2014-15 airbag packs and wanted to share some big picture details on the airbag market place.
There are three primary developments in airbag packs for the 2014-15 season:
The introduction of the first battery powered airbag system by Black Diamond Equipment called the Jet Force. Arc'teryx also has a battery powered design in the works, but the latest word is that it will not be available until fall 2015.
The wide adoption of the ABS brand system (using compressed nitrogen) by pack manufacturers like Osprey, Ortovox, Mountain Hardwear and others. The wide use of the ABS system is in part because of their modular offering that can be applied to third party designs – the modular ABS airbag unit (Vario) can be zipped into packs designed for the purpose. No other brand has licensed their system to third parties like ABS – such a relationship allows each company to focus on their specialty – ABS does the airbag and the pack manufacturer designs the pack.
Compressed air systems like the ones used by Mammut, BCA and K2 (as BCA's parent company K2 uses BCA's Float technology) continue to see refinement making them lighter, more touring friendly and with a growing variety of pack style options.
We've been able to wear and test many of the 2014 offerings. Here is a quick take on the main types of systems.
Battery Powered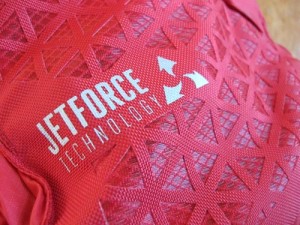 There is no question that the new battery powered Jet Force system from Black Diamond (and Pieps – owned by BD and partnered in development) is going to shake up the market with its new electronic inflation technology. The system worked well in our testing of a pre-production model and, in my opinion, the number one advantage to the battery system is the ability to test/practice use without the need to recharge a canister. BD specs the battery for up to four full deployments before suggesting a recharge. This means you can actually test deploy it before heading out for the day or practice with it before a trip.
In addition to test firing the system, battery technology also offers ease of travel. But don't expect battery systems to be any less costly or lighter than canister systems; the Jet Force is forecast to run around $1K and weighs in on par with other systems. Expect the Jet Force to hit the North American market lat fall 2014.
Compressed Nitrogen
If battery technology is the cutting edge, the ABS brand compressed nitrogen canister system is the longest running and probably most tested technology. The ABS nitrogen canister system was first patented in the mid-1980's. Of course, it's seen significant redesign over the years; the current model represents decades of design evolution. Advantages of the compressed nitrogen system include being less sensitive to temperature swings than air or batteries, and compressed nitrogen fits in a smaller canister than compressed air. But the system is the most costly and difficult to recharge or replace. ABS has plans to expand the refill program but, as of last winter, refills required returning canisters to authorized locations, of which there was only one in North America. It is possible to exchange or rent canisters at select retail locations. The system uses an explosive charged pneumatic trigger to initiate inflation. ABS moved to this system from a basic mechanical trigger in an effort to improve speed and reliability of the trigger.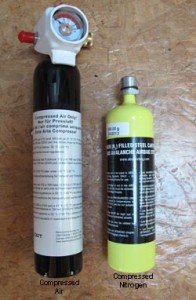 Compressed Air
Compressed air systems like those used by Mammut and BCA airbag packs have simplicity on their side. The canisters are much more readily refilled than nitrogen. Certified refill locations include pack dealers as well as select paintball and scuba shops in North America. It's relatively inexpensive but, like the nitrogen canisters, air travel in the US is not allowed with a charged cylinder, so flying on a commercial airplane in the US with your airbag pack requires sourcing a canister or a refill at your destination. Mammut and BCA use straightforward mechanical triggers for deployment. Mammut offers a removable system called RAS (removable airbag system) allowing pack use with or without the airbag and use of the system in more than one pack (you could have a small "heli-pack" and a larger day-touring pack). The BCA and K2 Float systems are integral to their respective packs but are available in several pack volume sizes.
We'll have a closer look at individual packs this fall in the pages of Off-Piste Magazine – subscribe here.