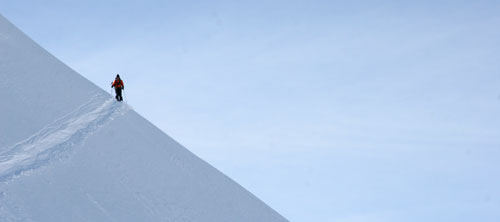 Avalanche safety equipment has long revolved around what most skiers will agree are the three essential companion rescue tools – beacon, shovel and probe.
Of course, having these tools in your pack doesn't make you any safer unless you have the knowledge to use them and at least a basic understanding of how to recognize potentially hazardous conditions and terrain. Education and backcountry experience are the true foundation to safe backcountry skiing.
While avoiding an avalanche remains your only guarantee to survive one, continued innovation in avalanche safety gear is helping to stack survival odds in a skier's favor. Avalanche transceivers are easier to use and more efficient than ever before, and the advent of the Avalung and now airbag pack are aimed at improving your chances for survival in the event of a slide. Whether viewed as self-preservation devices or essential safety tools, Avalungs and airbag packs are growing in popularity thanks to user-friendly, lightweight designs as well as a few high profile incidents where both devices have helped skiers survive deadly slides. 
Although not yet as common a sight in the backcountry as Avalungs, airbag packs are gaining momentum in avalanche safety circles. Although they come with a significantly bigger price tag ($700+) than a standard ski pack or even an Avalung pack ($200+), airbag packs are even gaining visibility among recreational backcountry skiers. Pack and airbag designs have made significant strides in reducing weight and complexity of the system over the past couple of seasons. The newest crop of airbag packs is proving that manufacturers can design and build ski touring friendly systems that maintain the operational feel and look of a traditional ski pack with the added safety edge of the airbag system.
Founded on the basic principle that larger volume objects will better stay on the top of a turbulent medium, airbag packs seek to dramatically increase a skier's volume by way of inflating a durable balloon or air bag around the upper body.  The design serves to promote keeping the skier on the surface of the debris and to help protect the head from potential trauma. The packs have proven to be quite effective, but should not be viewed as substitutes for education, experience, informed decision making or companion rescue gear.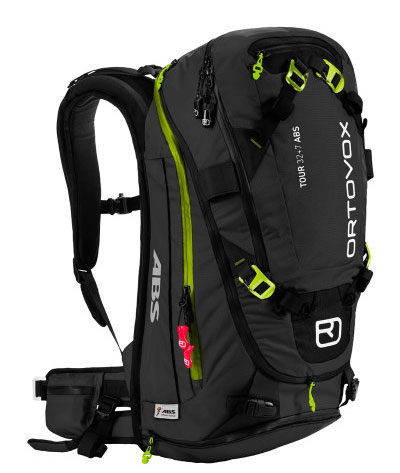 Packs and technology are also evolving every season. While we await new offerings from Black Diamond and Arcteryx that will feature battery driven inflation devices, compressed air technology rules the scene. We sampled a variety of packs last spring and are currently field testing the new Ortovox Tour 32 ABS pack (review to be added soon).
In the meantime, you can read the complete avalanche airbag pack review that appeared in Issue 56, January 2013.

Shop for avalanche airbag pack deals at backcountry.com and support Off-Piste Mag
Shop for avalanche airbag pack deals at evo and support Off-Piste Mag