I got a call a couple weekends back to join some buddies on a jaunt in search of turns. Unfortunately, I was otherwise obligated. Fortunately for Jason and Andy, they did not need me to get after it. Jason put togther a great report on their adventure.
A Mid-Summer Night's Scheme
By scheme, I'm referring to the cockamamie variety. And as any endeavor to ski in August clearly falls within the scope of a cockamamie scheme, this one was right on target.
Skiing in late summer (at least in the northern hemisphere) usually requires a lot of effort for minimal skiing. Our plan was no different. We were going to bike up the Cloud Cap Road on Mount Hood, transfer our ski gear onto our backs, hike up to the Elliot Glacier, then look for some relatively good snow to ski on. Our objective was the Snow Dome on Hood's north side. This feature forms the shoulder of the Elliot Glacier, and its northeast aspect is known to hold decent snow through mid July. It was August first.
Normally one can drive to 5600' on the Cloud Cap Road, but as a result of the Gnarl Ridge Fire in the summer of 2008, the road has remained closed to vehicle traffic. This is not because the road is impassable (official vehicles have been using the road since early July), but rather to allow time for rehab work and limit user traffic in the fragile, recently burned area. Those hiking in the vicinity, climbing north side routes on Mount Hood, or skiing have had to hike the 3.5-mile Tilly Jane Trail to access the summer trailhead at Cloud Cap. Another approach option is to bike up the nine-mile Cloud Cap Road. It is a well-maintained dirt road laid out on a consistent, gentle grade, which makes towing 30ish pounds of ski gear relatively pleasant. We started in the pre-dawn dark with our headlamps lighting the way.
Easily one of the more remarkable experiences of the day was riding through the burn. For the first hour or so of pedaling we could only see the small portion of road illuminated by our lights. But as dawn approached, the eerie incinerated landscape began to expose itself. It is an odd experience to find yourself in a place that you are familiar with which has so dramatically changed. What was once a thick evergreen forest has transformed into a field of giant burnt matchsticks. We pedaled on.
Once at Cloud Cap, we stashed the bikes and packed our gear onto our backs. We then hiked along the west moraine formed by a once much larger Elliot and crossed onto the glacier around 6500'. At this point we encountered another desperate soul, who, after all that effort, described the snow as "looking pretty miserable." Without ever taking his skis off his pack, he turned around and started hiking back down the mountain. Out of determination or stupidity, we decided to persist.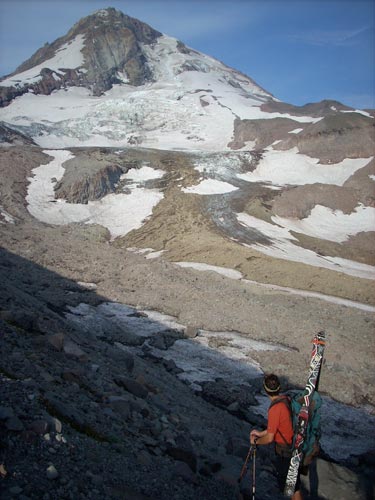 From our new closer vantage point, the snow indeed looked even worse that it had from afar. Its surface was pock marked with lazy-boy sized craters. And the areas between the craters were deeply runnelled. It was not encouraging. Yet we continued upward. Travel along the lower portions of the glacier was primarily on low angle ablation ice. Recently released water molecules gurgled along through fissures in the glacier deep beneath our feet. Around 7000' we transitioned onto actual snow from the previous winter. 
By now, it was obvious that even by our standards, the snow was looking grim. We engaged in circular conversations such as, "do you think the snow is any better over there," and "how much better do you think the snow was two weeks ago?" No matter where we searched it was the same old good from far, but far from good paradox. But just then, as we blinked silently at our situation, there appeared the great white whale! Above us, wedged between a couple of heavily crevassed areas was a good looking patch of snow. Minimal sun cupping, shallow runnels and a soft surface was all we needed to justify some actual skiing. We gingerly made our way up another 500'. At long last we put our skis onto our feet. And down we went.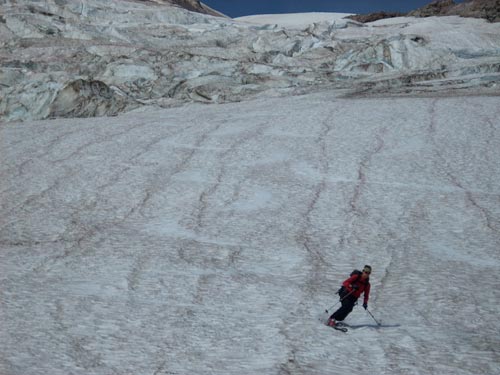 The sensation of skiing over the uneven surface was similar to that of driving over highway rumble strips. Yet the ruts were consistent enough that some mindfully groovy turns were had. We skied down the mid section of the Elliot, then traversed over to its left flank and found another couple of skiable pitches. Piecing it together, we got in a solid 1000' of skiing, followed by a first-rate foot soaking in glacial water. After that the skis went back on the packs for the hike down, then back onto the bike trailers and before we knew it we were back at our cars; cockamamie scheme complete. – Jason Leslie