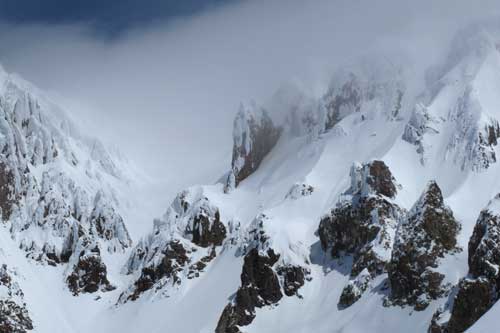 Following an unusually stormy week on Mount Hood, Saturday dawned foggy with 24-inches of new snow and a not-so-encouraging weather forecast. Knowing how fickle spring weather can be, and not having been on skis for a couple of weeks, a longstanding plan for a ski tour on Mt. Hood's South Side was enough to trump the gloomy forecast.
The gamble paid off and Mt. Hood delivered some exceptional ski conditions for late May. Joined by Larina and Bob Davis, winners of a Mt. Hood ski day auction item at an annual NWAC fundraiser, we threaded the weather needle on Saturday to enjoy a classic Illumination Saddle ski tour. The healthy new coat of paint gave Hood a decidedly winter feel, yet the clouds parted and spring weather reigned.
The snow was soft and consistent above 7,000-feet making for several sweet laps on the terrain around Illumination Rock and down into the drainages above Zig Zag Canyon. Despite being the Saturday of Memorial Day weekend, we were the only skiers on Illumination Saturday morning.
After dropping to our final low point of the day above Zig Zag Canyon, the cloud deck rolled back in as we skinned up for our climb back toward Timberline Lodge. By the time we arrived at Timberline, Mt. Hood was fogged in again and it was time for a beer. Thanks to Bob and Larina for their support of the Northwest Weather and Avalanche Center and for being game to give it a go despite the weather forecast. Here's a short slide show a mix of our photos.
Special thanks to Timberline Ski Resort, the Sixth Street Bistro in Hood River and the USFS (Mt Hood) for the support of NWAC and for making our Mt. Hood Ski day more than just a ski day.