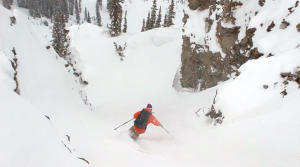 Just in case you thought telemark skiing was dead, here's a little freeheel stoke from Jake Sakson – the "last remaining professional big mountain telemark skier" (those are his words).
After years on the freeskiing circuit and a very respectable third place finish in the North American Freeskiing World Tour, Sakson has returned to his backcountry roots in search of adventure and he found it in the Colorado Rockies freeheeling fourteeners.
Beans and Rice: Episode One "To Deep, Too Steep" from BeansandRiceFreeride on Vimeo.
Telemark skiing lives on! Freeheeling big lines on Colorado's fourteeners. Episode one includes spring ski mountaineering big lines in Colorado. Long approaches, hours of bushwhacking fueled low-brow humor and a constant awareness Colorado's risky snow pack.
In the next episode they learn that their bottomless stoke can take them into places that are simply too steep and too deep for their little tele skis and dim headlamps…
Inspired to make the most of your telemark skiing? Check out telemarkfreeridecamps.com.