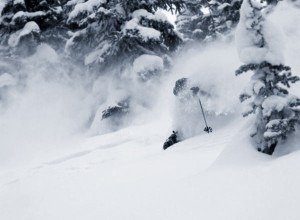 NOAA recently released its most current El Niño 2014-15 update. And, no real surprise, it's in a holding pattern that appears to favor a weak El Niño building by January. It's about the same statement that was released a month ago. Of course, there's plenty reason to question any long-range forecast. Nonetheless, I find myself compelled to read such discussions; it's part curiosity in the science and part fun and games following any long-range predictions, not mention that El Niño is proven to influence ski season weather.
Predicting the weather, short and long term, as a casual observer is a sport all its own these days given the technology and tools at our disposal. I heard a recent discussion in the news about how the increased availability to weather forecasts – namely on our phones – is changing how we track the weather. Ten years ago, most people read or watched the weather forecast once or twice a day with a focus on what the weather would bring for the following day or two Today, with near constant access to perpetually updated information and real-time radar imagery, we are checking the weather to see what the next hour or even 15 minutes is likely to bring.
I'm as guilty as anyone for being weather obsessed. In fact, my favorite app for checking the current radar on my phone is called My Radar – it has great free option. When it comes to longer term forecasting, the El Niño, La Niña influence – known collectively as the El Niño Southern Oscillation or ENSO – is always fun to follow. When in a strong phase, it has a tangible influence on the ski season. You can read more about Demystifying ENSO in a article that appeared in Off-Piste Mag a couple seasons back. A weak ENSO influence, like the one brewing at this time, seems to me to highlight the "roll-of-the-dice" nature of long-range forecasting. It's the stronger cycles that are more predictable. If you want to read more about El Niño 2014-15 influence, check out the recent post, Wimpy El Niño, by University of Washington Atmospheric Sciences Professor Cliff Mass. He offers some good details regarding the strength nature of the current ENSO situation.
A second influence, known as the Pacific Decadal Oscillation or PDO, also has the potential to influences ski season weather to some degree, at least on the West Coast. Like ENSO, the PDO tracks sea surface temperature trends in the Pacific, but the PDO is specific to the northern Pacific. It appears to have swung into a positive or warm phase late this summer. Read more about the PDO here or Check its current value here.
And if you are still reading this, you're likely a good candidate to enjoy the the content of the Oregon Chapter of the American Meteorological Society's Winter Weather meeting in Portlandon October 25. It's free and all about winter weather prognostication