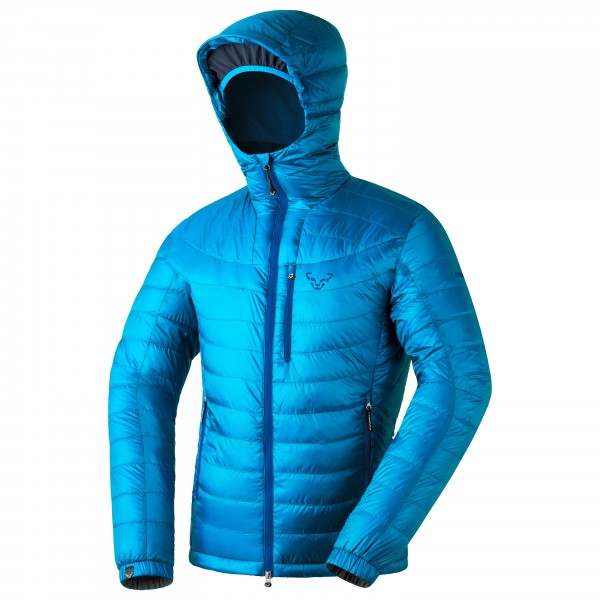 I've long been an advocate of synthetic insulation for backcountry skiing. I use my insulation layer or "puffy" as the piece of clothing I put on over my touring layers during transitions and whenever stopped. As a result, my puffy jacket comes and goes from my pack more than any other piece of clothing. It gets stuffed and re-stuffed, often with a little snow or moisture in the mix. I've found that synthetic insulated jackets hold up great to this type of abuse. The downside to synthetic insulation is it's not as warm or as light as goose down insulation. With down's superior warmth to weight ratio in mind, I decided it was time to check out the growing field of waterproof down products to see if they really work in the field.
The Dynafit Cho Oyu Down Jacket is a lightweight hooded down jacket well suited to backcountry skiing. It uses 750-fill down and is warm enough to really hold it's own on a cold day while remaining light and pack friendly for day touring. It features baffled construction, so it's not "sewn through" like less expensive and less warm jackets. It also features Downtek ™ water repellent down. DownTek™ is a treatment that shields the insulating-air-trapping-clusters that make down so insulative from all things wet.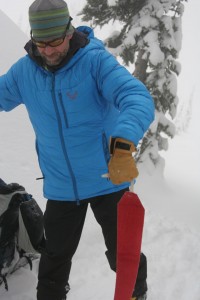 I've tested the Cho Oyu jacket for a full season, wearing it in a wide range of conditions from the Cascades to the Rockies and from Coastal British
Columbia to the Northern Interior ranges on day trips and multi-day overnights. It has endured countless stuffings and re-stuffings into my
pack, been exposed to the white rain and served to keep me warm in serious cold. Basically, I have exposed it to everything but extended rain. It has survived all of this while maintaining its loft and ability to keep me warm.
There have been days that it felt damp to the touch, times when the DWR has lost its voracity, and through it all it has performed as expected. It offers a great blend of minimalism and luxury and has earned its way into my ski touring pack as my go-to puffy.